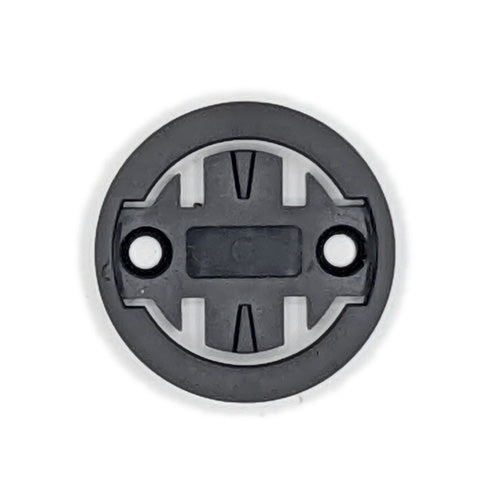 Free Garmin Insert Replacement
KB-00008  2022-03-04
THIS PROGRAM ENDED 2/1/2023
Issue:
Certain Garmin quarter-turn inserts may crack or break entirely causing the attached Garmin device to become loose or detach from the mount.  The quarter-turn insert is the plastic part that the Garmin device clips into.
Information:
We have received a high number (>2%) of reported issues with a specific lot of Garmin quarter-turn inserts used in some kits.  While these parts are considered sacrificial, the reported failures were not always attributed to high impact loading or crashes.  Out of an abundance of caution, we are offering a free* insert replacement kit to any customer who may be affected.  The replacement insert is of a different brand and has no reported issues.
These inserts were used in kits manufactured between May 2021 and February 2022.  The affected insert can be identified by a rectangular recess with an imprinted 'G' in the center (see pictures below).  Only inserts that match this identification are affected.
Replacement Insert Kit:
The replacement insert kit includes a new insert, new screws, nuts, and a hex wrench.  To repair the existing mount, unscrew the existing screws, replace the old insert with the new one, and either re-install the old screws or use the supplied new ones.  If using the new screws, apply a small drop of threadlocker to the screws before assembly.
Alternative Upgrade Offer:
Affected customers will also have the option to purchase an upgrade to the new GoPro to Garmin Mk II mount arm for $5.95 including shipping (US customers only).  If you prefer this option, let us know when submitting your claim.  Read about the details about the Mk II improvements in this article.
*International Customers Only:
International customers will receive a free GoPro to Garmin Mk II mount arm in leu of an insert kit.  This replacement offer does not include the cost of shipping.  Shipping will be a flat rate of $12.95 and is only valid for orders where we shipped to an international address.  International customers who shipped their orders to a US shipping broker are not eligible.
How to File a Claim:
To file a claim send a picture of your existing mount insert to support@buplabs.com.  If more than one mount was purchased, please include separate pictures of all affected mount arms.  We will also need additional information to identify your original order depending on where the mount was purchased.
PLEASE NOTE:  Replacement parts can only be sent to the original purchaser at the original shipping location.
For direct purchases from this store:
Include the original e-mail address used for the original order or provide the original order number.
For Amazon purchases:
Please provide the Amazon order number.  We cannot lookup Amazon orders based on e-mail addresses because Amazon hides them from us.
For purchases from bike shops:
Please provide a copy of the purchase receipt and/or the address of the bike shop for warranty validation.  Alternatively, have the bike shop where you purchased the mount contact us directly and we will mail replacement kits to them.
When Will I Get The Replacement?:
All orders will be shipped via USPS First Class and may take up to 7 business days to receive.  International shipments may take 3-4 weeks to arrive.
Last Updated Feb, 2023